THE MECHW INITIATIVE
Who we are
Defining CHWs
The Maine CHW Initiative acknowledges the work done nationally and within our state to provide a better understanding of who CHWs are and what function they serve across systems of care.
In 2009, the American Public Health Association (APHA) adopted the following definition for a community health worker:
A frontline public health worker who is a trusted member of and/or has an unusually close understanding of the community served. This trusting relationship enables the worker to serve as a liaison/link /intermediary between health/social services and the community to facilitate access to services and improve the quality and cultural competence of service delivery.
In 2014, stakeholders in Maine adopted their own definition for the CHW profession:
A trained and trusted public health worker who is respected by the people they serve and applies their unique understanding of the experience, socio-economic needs, language and/or culture of communities to:
Act as a bridge between providers and individuals to promote health, reduce disparities, and improve service delivery; and
Advocate for individual and community needs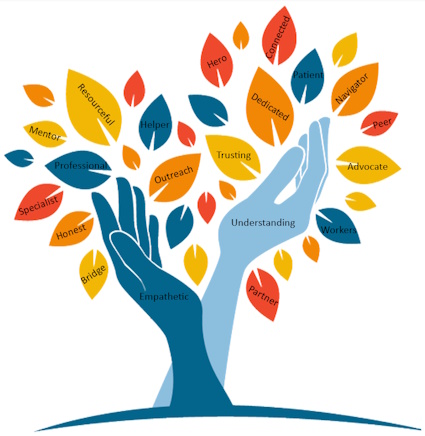 Impact
CHWs have been working in Maine communities for two decades and today they serve diverse groups across our state. These include:
Aging adults
Migrant & seasonal farmworkers
New Mainers
Patients with a chronic disease
Patients with a mental illness and/or substance use disorder
People experiencing homelessness
People experiencing poverty and/or food insecurity
Tribal communities
Uninsured and publicly insured patients
There is growing recognition and evidence for the use of Community Health Workers (CHWs) in reducing health disparities, improving patient outcomes, and lowering health care costs in Maine and across the country.
There is now a large body of evidence from CHW programs across the United States and the world on the effectiveness of using CHWs across multiple settings and health issues. Rather than attempt to provide our own synopsis, we will point you to organizations that have compiled summaries and databases on the best available research:
Titles
Community Health Worker is an umbrella term that encompasses individuals in many different positions who have a unique understanding of communities and apply the C3 roles and skills in their position. Examples of alternative titles used in Maine are:
Community Health Outreach Workers
Community Services Specialists
Community Resource Specialists
Parent Community Specialists
Peer Navigators
Patient Navigators
Promotores de salud (Promotoras)
Natural Helper
Community Health Worker (CHW)
Community Care/Health Navigator
Although CHWs work under different titles, what unites us is a broad knowledge of communities, our ability to serve individuals in non-traditional settings, and the roles and skills that we practice, and our shared qualities (see National Community Health Advisor Study).
For those that work with and support Community Health Workers, it is important to recognize that CHWs have their own distinct professional identify. CHWs are different from social workers, care managers and interpreters because of the training they receive, where they practice, and their relationship to the individuals and communities they serve. We advocate for a better understanding of the CHW role within healthcare and encourage individuals to embrace the CHW title to increase awareness.
CHW Roles & Skills
CHWs are trained to perform a specific set of roles and skills that make them unique among health professionals. We endorse the roles and skills that were developed by the Community Health Worker Core Consensus (C3) Project, which serve as the foundation for professional development and scope of practice. Below is an overview of the C3 roles and core skills. For a full description, please see this check list.
CHW Roles
Cultural Mediation Among Individuals, Communities, and Health and Social Service Systems
Providing Culturally Appropriate Health Education and Information
Care Coordination, Case Management, and System Navigation
Providing Coaching and Social Support
Advocating for Individuals and Communities
Building Individual and Community Capacity
Providing Direct Service
Implementing Individual and Community Assessments
Conducting Outreach
Participating in Evaluation and Research
CHW Core Skills
Communication Skills
Interpersonal and Relationship-Building Skills
Service Coordination and Navigation Skills
Capacity Building Skills
Advocacy Skills
Education and Facilitation Skills
Individual and Community Assessment Skills
Outreach Skills
Professional Skills and Conduct
Evaluation and Research Skills
Knowledge Base